Acknowledgement of Traditional Custodians
Alpine Shire Council acknowledges the Dhudhuroa, Gunai-Kurnai, Taungurung, Waywurru and Jaithmathang as the First Peoples and Traditional Custodians of the Alpine Shire.
We pay our respect to their Elders, past, present and emerging.
The Alpine peaks and high plains within the Alpine Shire comprise the central location where traditional lands belonging to each of its First Peoples meet up.
The Alps are traditionally of great cultural and spiritual significance to our Shire's First Peoples. The Alps marked the central point where it was believed the sky was held up by wooden pillars carefully maintained by supernatural beings.
They were also home to spiritual elders living in stone houses, who dedicated themselves to ceremonial song-making and storytelling.
Each summer, the Alps were an important site for harvesting and feasting on Bogong moths.
The First Peoples of the Alpine Shire possessed a deeply-held spiritual belief that the world was created by ancestral beings, the signs of which could be seen all around.
They saw themselves as active participants in ongoing ancestral processes, in a world which was one interconnected whole, and in which the past, present and future were bound together.
Today, Alpine Shire Council recognises the ancient and on-going presence of its First Peoples, and acknowledges their unique and continuing connection to the lands, waters and culture of the Shire.
---
Reconciliation Action Plan 2023 - 24
We are proud to share our organisation's Reflect Reconciliation Action Plan (RAP) January 2023 – June 2024. 
A Reflect RAP is a plan designed for organisations beginning their reconciliation journey with First Nations peoples. 
Our organisation's Reflect RAP is an inward-facing document that focuses on how we, as an organisation, can develop positive relationships with First Nations peoples that are built on a mutual foundation of respect. 
We acknowledge all the First Nations peoples who offered their time and expertise as we developed our organisation's Reflect RAP, including all Traditional Owners of Country and First Nations peoples living off-Country across the Alpine Shire. We thank you for being so generous with your knowledge and for sharing it with us in the spirit of reconciliation. 
The artwork for Council's Reflect RAP - NGATANWARR, WATA WALOONG, WATA POORAY (Welcome, come near, come far) - was created by proud Gunditjimara woman and local Myrtleford young person, Ava Brock. 
The development of Council's Reflect RAP and all associated activities has been jointly funded by the Commonwealth Government and Victorian Government under the Commonwealth-State Disaster Recovery Funding Arrangements in response to the Black Summer Bushfires which impacted Victorian communities across the Alpine Shire.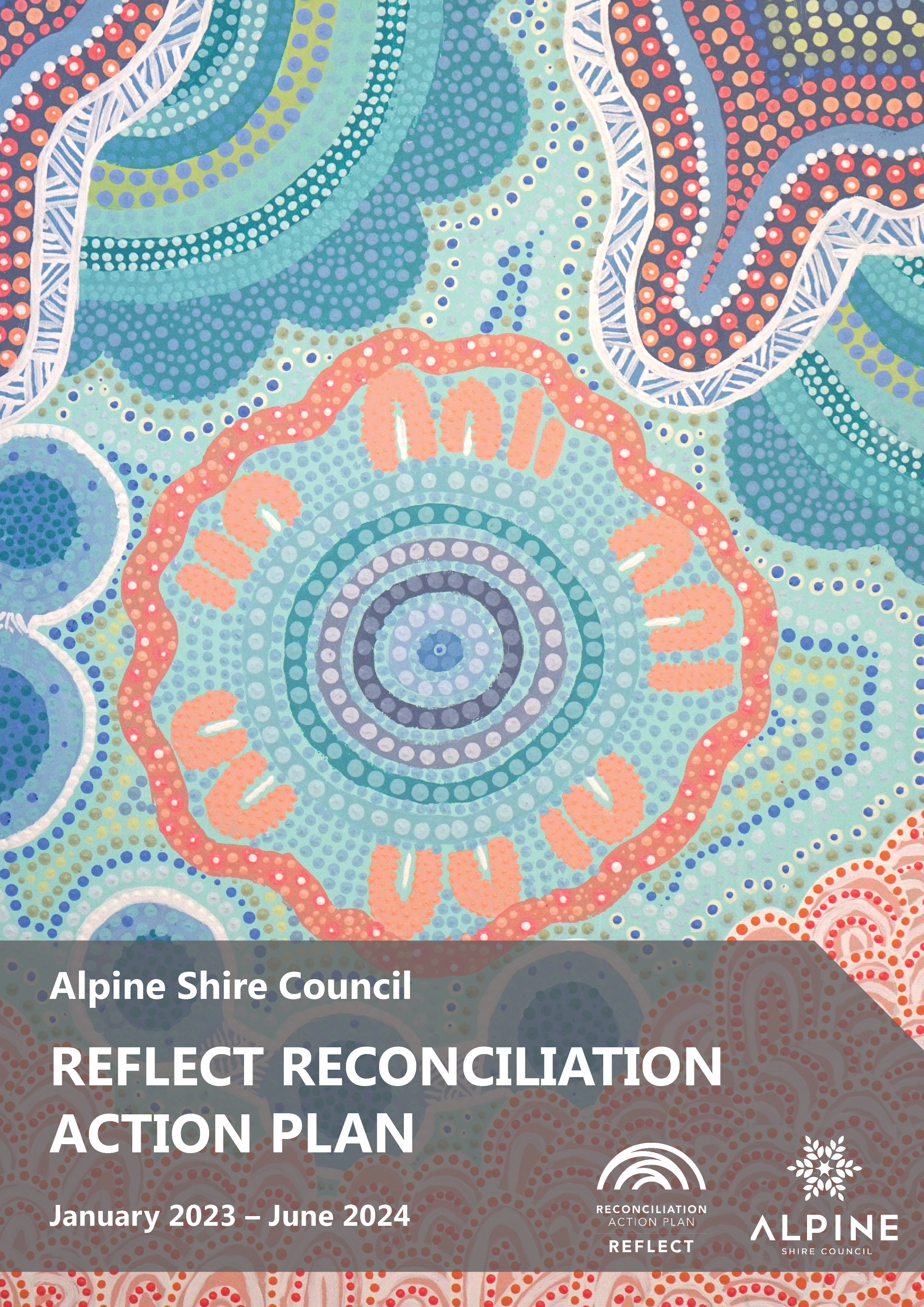 NGATANWARR, WATA WALOONG, WATA POORAY (Welcome, come near, come far)
by Ava Brock 
NGATANWARR, WATA WALOONG, WATA POORAY means welcome, come near, come far when spoken in Gunditjmara language. 
Overall, ten different languages were spoken across Gunditjmara Country, yet communication through core words was how they all stayed connected. 
My name is Ava Brock and I am a proud Gunditjimara woman of the Kerrupjmara clan. I am 16 years of age and go to school at Myrtleford P-12, where my family have all gone. I was raised within the Alpine Shire and have learnt to appreciate the beautiful place I call home. Having never lived anywhere else, being given the opportunity to be involved is truly an honour. 
This painting represents the coming together of all as we reconcile as one from near, from far, or from here. 
The middle meeting place represents the Alpine Shire, surrounded by symbols of man, woman, and person. This acknowledges every member within our Shire as one and how we are all equal. 
The connected waterholes to the left and below of the meeting place appreciate our connections all over Country through our waterways and the way in which the river will always lead you somewhere, as historically mob stayed in places where water was running fresh. 
Along the bottom of the painting lies our mountain ranges, those which border the place we call home. These hills offer a natural beauty only found here, attracting people from all over to the Alpine Shire. 
The top left and right corners show us those hardships we may face as a community and how the blooming support to the right of both corners from surrounding communities brings us all together, to overcome that which can't take us down. 
As a whole, reconciliation is such an important step for the future of our community. No matter your background, we are all in this together.