Council recognises that the world is in a state of climate emergency that requires urgent and sustained action by all levels of government, including local government.
On 9 November 2021, Council declared a climate emergency.
A climate emergency declaration is a call for immediate and urgent action to reverse global warming.
Across the Alpine Shire we are witnessing the effects of climate change, with:
Larger, more intense, and more frequent bushfires.
Shortened natural snow seasons, higher snow line and less accumulated snow. 
Longer and more intense drought, the Millenium Drought 1996 – 2010.
Extreme rainfall events, flash flooding and summer flooding.
The changes that we are already experiencing have critical repercussions on living, work and play in the Alpine Shire.
Agriculture, horticulture, businesses, residents, visitors, flora, fauna and ecological systems are all affected. 
The same year saw Council adopt a Climate Action Plan to reduce its corporate Greenhouse Gas Emissions (GHG). Through this Climate Action Plan, Council commits to reducing GHG emissions from Council's own operations to net zero by July 2023.
Corporate Climate Action
Baseline Emissions
The baseline GHG emissions from Council operations has been calculated at 2384 tonnes CO2 equivalent (t CO2-e) per year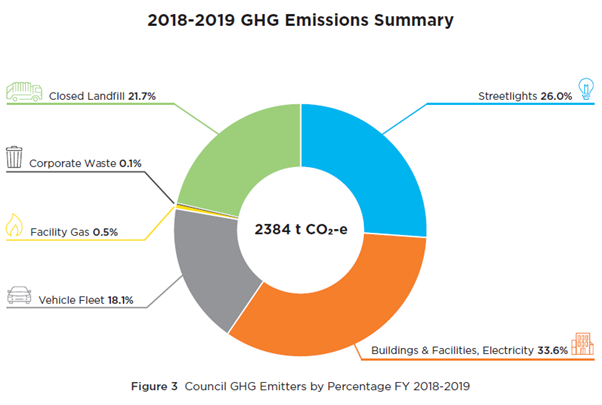 Pathway to Net Zero
Council's approach to climate change mitigation involves a continuous improvement process, that will be adaptive and responsive to changing needs. This process will ensure that the targets set, and means to achieve them, are environmentally, financially and socially sustainable both now and into the future – as technology, attitudes, carbon accounting practices and climate science evolve. Council has committed to a pathway to net zero by 2023 through the following initiatives:
VECO PPA - Council has recently signed up to the VECO PPA; a 100% local renewable energy buyers group comprising 46 Victorian councils.
Solar PV and Battery - Council is currently exploring and developing opportunities, including installing solar PV and batteries at Council owned and operated buildings and at community run buildings and facilities.
LED Streetlights - Council is currently in the process of a large-scale changeover of streetlights throughout the Alpine Shire from energy intensive mercury vapour lights to highly energy efficient LED lights.
EV Car Fleet - Council has already taken the opportunity to upgrade to several hybrid vehicles. The council is now moving towards purchasing Electric Vehicles (EV) and EV infrastructure as the current fleet reaches replacement age.
Purchase Offsets - Residual emissions will be offset through purchasing of carbon credits to achieve net zero from July 2023.
Summary of significant GHG emissions reduction activities to meet net zero by 2023:

Collaborative Partnerships
To bolster Council resources and maximise our climate action impact, Alpine Shire Council collaborates with other Local Government Authorities throughout Australia. This includes membership of the Australia wide Cities Power Partnership and more locally the Goulbourn Murray Climate Alliance. 
Further Initiatives
In addition to the initiatives targeted to get Council to net zero by 2023, several other sustainability initiatives are currently being developed, including:
Trees and Open Spaces - Council sees the tremendous value that our green spaces provide to residents and visitors to the region.  Council's approach to open space and tree management and protection can be found on the Council website's Trees and Open Spaces page.
Sustainable Procurement - Council considers environmental sustainability in all procurement decisions, as required under Council's procurement policy. 
Climate Adaptation and Resilience Plan - A Climate Adaptation and Resilience Plan will be developed to address these threats of a changing climate to Council's assets, community townships and the municipality as a whole.
Electrifying Council - In addition to end of life replacement of inefficient appliances and mechanical plant at Council owned facilities, Council is now distributing development guidelines that include replacement of any gas reliant appliances with electrical, to support a move towards a fully electrified Council.
ESD Guidelines and Energy Efficient Buildings - Council is currently developing Environmentally Sustainable Development (ESD) guidelines for Council buildings and facilities, both new builds and renovations, to ensure best practice ESD.
Capping Closed Landfill - Capping design is in progress for the closed landfill sites at Porepunkah and Myrtleford, to reduce uncontrolled methane emissions and water infiltration that could lead to groundwater pollution.
Encouraging Active Transport Choices - Council has undertaken several measures to encourage cycling and walking for short trips to and between council facilities, including; access to showers, bicycle storage and awareness of safe off-road paths.
Tourism and Event Waste - While both tourism and events contribute to the economy, vibrance and diversity of our region, the influx of visitors also generates significant amounts of waste. Council's Waste Wise Guide provides advice for event organisers on how to minimise waste at events. Council was recently awarded a Sustainability Victoria Grant to lead 10 other North East Victorian Councils and Alpine Resorts, in the development of a report that investigates options to minimise event and tourism waste.  Watch this evolving space for implementation of the recommendations and outcomes of the report,