There is support available to help businesses through the coronavirus pandemic.
Phase C | Implications for businesses
As Victoria reaches 80% double vaccinated and moves to Phase C in the Roadmap at 6pm on Friday, 29 October, key changes will come into effect for businesses to support a safe easing of restrictions.
Phase C requires many businesses (including hospitality, hair and beauty, gyms and entertainment) to comply with requirements that all workers and all patrons are fully vaccinated.
Hospitality businesses can continue to offer takeaway if they do not have all staff fully vaccinated, but cannot provide seated service. Hair and beauty, gyms and entertainment venues must close if they do not meet the fully vaccinated requirements.
All hospitality workers must be fully vaccinated by the time we reach Phase D of the National Plan (90% vaccination rate) if they are working on site, even if they are only providing takeaway, as part of mandatory vaccination requirements for select workers.
Retail businesses do not need to check vaccination status, and workers do not need to be fully vaccinated until we reach Phase D.
Accommodation bookings are subject to the private gathering limit and are permitted for:
the person making the booking, plus 
the other members of their household, plus 
the intimate partners of the person or any member of their household, plus
10 additional people (dependants included, infants under the age of 1 excluded). 
Vaccination is strongly recommended for all guests. Density quotients apply to communal and outdoor spaces. Only fully vaccinated guests can access those spaces with vaccination requirements, such as swimming pools and restaurants.
Worker vaccinations:
All businesses are urged to review their worker vaccination requirements against Victoria's Roadmap: Delivering the National Plan (link below)
Phase C of the Roadmap provides for a progressive reopening with eased capacity limits across various settings when all attendees and workers are fully vaccinated
The option of eased capacity limits will only apply if everyone present is fully vaccinated (or has a valid medical exemption)
This means if your workers are not fully vaccinated, you may not be able to open or to apply the eased capacity limits offered in the Roadmap
Encourage your workers to get vaccinated as soon as possible
Learn more or book and appointment at https://www.alpinehealth.org.au/covid-19/vaccination-clinics
Learn more about obligations for businesses: https://www.coronavirus.vic.gov.au/how-we-work-current-restrictions-regional-victoria#victorias-roadmap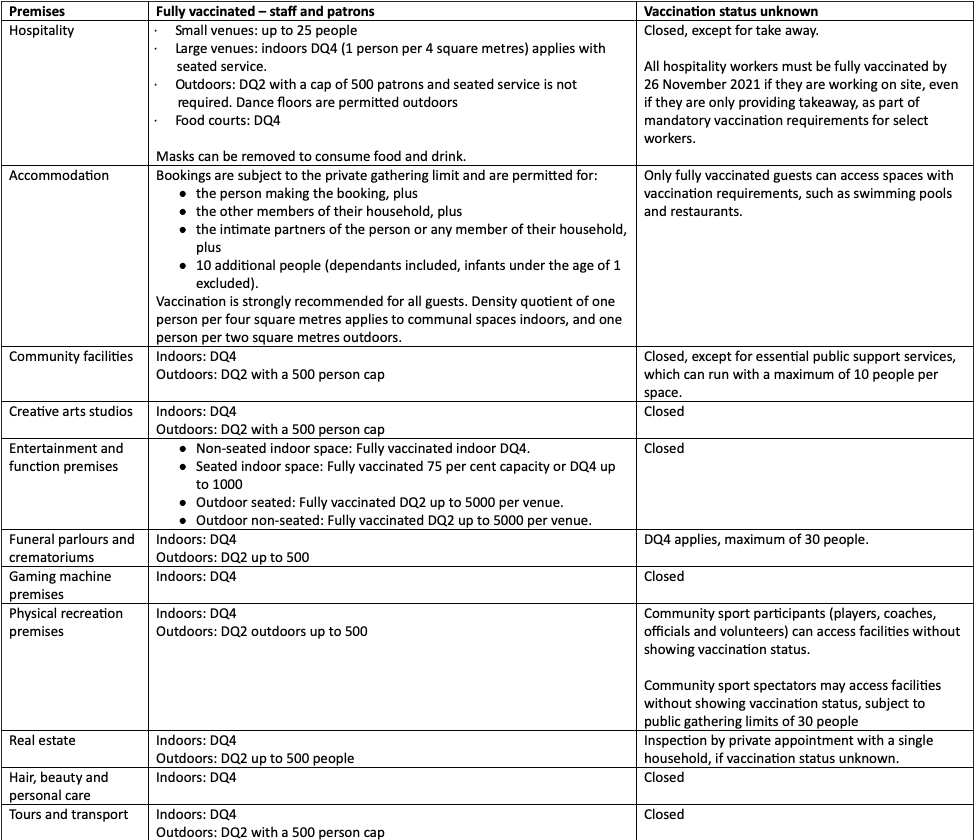 Support for Businesses
The Victorian Government has announced a package of automatic cash grants to support regional Victorian businesses through.
Grants to be paid through the new $146.6 million initiative, jointly funded by the Commonwealth and Victorian Governments, will be made automatically without the need for regional businesses to make an application.
The support includes:
> Business Costs Assistance Program
Around 18,000 businesses in regional Victoria will automatically receive payments of $5,600 ($2,800 per week) if they have previously received grants under the Business Costs Assistance Round Two or July Extension programs.
> Licensed Hospitality Venue Fund
Automatic payments of $5,000, $10,000 or $20,000 per week will be made to more than 2,000 licensed hospitality premises in regional Victoria that have previously received grants under the Licensed Hospitality Venue Fund 2021 or July Extension programs. Payment amounts will be tiered according to a premises' capacity.
> Alpine Resorts Winter Support Program
This targeted program will provide payments of $5,000, $10,000 or $20,000 per week, depending on business type and location. 
> COVID-19 Disaster Payments
Eligible workers who lose work due to the lockdown can access the Commonwealth's COVID-19 Disaster Payment, as can sole-traders who do not qualify for Victorian Government support programs. The payment is $450 for people who have lost 8-20 hours work over seven days or $750 for 20 hours or more of work lost. 
Business owners who want help applying for the Commonwealth COVID-19 Disaster Payment can access the Business Victoria Concierge Service on 13 22 15. 
> Small Business COVID Hardship Fund
Business in regional Victoria that do not qualify for this new support and have experienced a reduction in revenue of at least 70 per cent are encouraged to apply for the Small Business COVID Hardship Fund, which provides grants of $14,000 to successful applicants.
Learn more: business.vic.gov.au
Council Assistance measures
Business Concierge Service
As we all navigate the newest changes to COVID-19 restrictions, help is on hand for our local businesses.
We know the Government's increased identification checking and QR code record keeping requirements will place a strain on local businesses and staff.
We know it can be confusing to understand exactly what you, as a business operator, need to do.
That's where Council's Business Concierge can help.
Our Business Concierge is here to support businesses to implement COVIDSafe practices, ensure their customers check-in correctly and understand the importance of the check-in processes for contact tracing in case of outbreaks. 
If you're a small business operator who needs help to review your COVIDSafe plan, or advice on the checking in of patrons, please contact Council on 5755 0555 to be referred to our Business Concierge.
Information on support for residents is available on our Coronavirus COVID-19 information page.
Hotline Help For Businesses Dealing With COVID-19 Impacts
A hotline is available for businesses dealing with the significant challenges posed by the COVID-19 outbreak.
The pandemic is creating issues for businesses large and small who are facing a downturn in trade, bans on events and restrictions on indoor gatherings, as well as challenges in dealing with employee safety and entitlements.
Given the rapidly changing nature of the crisis, businesses need quick access to accurate information on how to keep their workplace safe, and advice on how to plan to deal with the current situation and anticipate likely developments.
Businesses across the state can now access information on dealing with COVID-19 by calling the Business Victoria hotline on 13 22 15.
Operators calling the hotline will be able to get information about support services, including those available through Business Victoria, which offers mentoring to help operators develop business continuity and recovery plans.
The hotline will provide the latest information on the response to COVID-19 and how this affects businesses, including how to access financial support available through the national stimulus package.
In addition to calling the Business Victoria hotline, business operators can also find information at business.vic.gov.au.
Partners in Wellbeing
Small Business Wellbeing Program
The Victoria Tourism Industry Council has established a dedicated Small Business Wellbeing Program for the tourism industry, including Alpine resorts.  
The program offers free and confidential one-on-one access to a highly experienced wellbeing and mental health consultant and free financial counselling and business advice.
Learn more: https://hub.vtic.com.au/topic/wellbeing/ 
COVIDSafe Plan
Business Costs Assistance Program
Business grant opportunities
Applications are open for a number of State Government grants to support businesses impacted by COVID-19 restrictions.
The Licensed Hospitality Venue Fund program will provide grants of up to $30,000 for eligible liquor licensees with hospitality venues impacted by COVID-19 restrictions.
The Sole Trader Support Fund provides grants of $3,000 to eligible non-employing sole traders who are impacted by COVID-19 restrictions.
The third round of the Business Support Fund will provide grants of up to $20,000 to eligible businesses, ensuring they continue to receive the support they need to make it through restricted trading.
Applications are now open for Commercial Landlord Hardship Fund grants - supporting small, private landlords who may not have the capacity to provide rent reductions to their tenants under the requirements of the Commercial Tenancy Relief Scheme.
To find out what other grants may be available to you or your business/group, go to the Indi Funding Finder. 
Chamber of Commerce support
They support businesses, offering training, workplace relation advice, tools and templates (fact sheets, human resources, policy and letter templates and position descriptions).
Australian Government support
The Commonwealth Government has also announced its economic response to the COVID-19 pandemic.
The support for business includes:
• Boosting cash flow for employers
• Increasing the Instant Asset Write-off
• Backing business investment
• Supporting apprentices and trainees
• Temporary relief for financially distressed businesses
• Supporting access to credit
Australian Tax Office
The Australian Taxation Office (ATO) will assist businesses (including sole traders) experiencing financial difficulty. Contact the ATO directly to discuss your circumstances. 
Small businesses with a turnover of less than $10 million are eligible to use instant asset write-off if they meet the criteria.
Australian Banking Association
The Australian Banking Association (ABA) has stated all small businesses hit by the coronavirus pandemic will be able to access a six-month deferral of all loan repayments.
Assistance can  include:
A deferral of scheduled loan repayments
Waiving fees and charges
Interest free periods or no interest rate increases
Debt consolidation to help make repayments more manageable
If your business is affected by COVID-19 speak directly to your bank to receive a six month business loan payment deferral.
Small Business Victoria
The Small Business Victoria website provides advice, updates and support to help your workplace plan in responding to coronavirus COVID-19. Everything is covered in a simple step-by-step fashion, from what to tell your employees to developing a recovery plan for your business. 
The page will also be updated as new information becomes available. Please check back regularly to stay up-to-date with the latest advice for your business.