The Alpine Community Recovery Committee (CRC) represents bushfire-affected communities across Alpine Shire, ensuring that local know-how and expertise are front and centre in longer term recovery planning.
Coordinated by Alpine Shire Council and Bushfire Recovery Victoria (BRV), the Alpine CRC is an essential link between communities, Council and other support organisations to assist with recovery and planning into the future.
Contact the Alpine CRC by emailing info@alpinecrc.org.au.
Sign up to Alpine Chat, the Alpine CRC's monthly digital newsletter.
Find out more about bushfire recovery in the Alpine Shire and Resorts.
Alpine CRC Goals
Alpine CRC Aspiration
Our communities are connected and resilient. They have the capacity to prepare for, respond to and recovery from adversities, are self-reliant when needed, and can create the future they want.
The establishment of the Alpine CRC is critical for supporting community-led recovery, so that affected communities can lead and drive their own recovery processes.
To achieve this, the Committee will:
engage and consult with affected communities to better understand their recovery needs and listen to their ideas. This includes providing hard to reach groups with opportunities to express their views
develop, implement and regularly update a Community Recovery Plan that addresses short, medium and long-term recovery priorities
keep communities informed of recovery issues, plans and actions arising from the Committee's work and celebrate successes
advise Council, BRV and other funding bodies on the allocation and prioritisation of funding for community projects and initiatives - advocate for community recovery needs with relevant agencies
assist with proposals to attract funding and resources to support community recovery projects
undertake, coordinate and monitor community recovery activities
maintain effective two-way communication on the community recovery process with Council (and Council's Recovery Committee for the whole municipality), BRV and other important stakeholders - share experiences and learning with other Community Recovery Committees around Victoria
contribute to evaluation processes that will improve future disaster recovery efforts.
Alpine CRC Representatives
CRC representatives are vital in providing a conduit for community voices to be heard in recovery planning. The Alpine CRC has representation from across the Alpine Shire and Resorts, including Bright and surrounds, Dinner Plain, Falls Creek, Harrietville and surrounds, Kiewa Valley, Mount Hotham, and Myrtleford and surrounds.
The following representatives were selected following public Expression of Interest (EOI) periods, followed by interviews with panellists from Council and BRV.
Bright and surrounds
Jane Shadbolt
Dinner Plain
Gail Owen
Falls Creek
Dani Sheean
Harrietville and surrounds
Fiona Laird
Lachlan Thomas
Kiewa Valley
Nick Wright
Mount Hotham
Steve Belli – Deputy Chair
Myrtleford and surrounds
Sally McDonald
Fiona Nicholls – Chair
The Alpine CRC thanks Malcolm MacPherson, Kellie Gray, Barbara Talbot, Bruce Hore, Mark Hubbard, Michael Jowett, and Jodee Betheras for their contributions.  
Alpine Community Recovery Plan
Community Survey
The Alpine CRC heard from 327 people, and something that stood out straight away amongst the results is the level of care and concern people have for each other in our community. People also expressed this keen enthusiasm for gathering and connection. For some, this was about debriefing and checking in with each other now restrictions have lifted. For others, this is seen as being essential for community strengthening and building resilience. The survey demonstrated that the community have identified a number of priorities that they believe are imperative to bushfire preparedness, response, recovery, and resilience.
Key takeaways include:
Progress after bushfires is mixed. 4 in 10 people impacted by the 2019-2020 bushfires are progressing well, while under 4 in 10 people impacted by the fires are making only some to no progress in recovery. Communities at higher elevations have a higher proportion of people not recovering well. 
COVID-19 restrictions had an enormous impact on bushfire recovery.
When asked what communities need, participants emphasised their need for clear information, for reliable communication infrastructure and for clarity in evacuation procedures.
First Steps to Recovery
The Alpine CRC First Steps to Recovery is a document that outlines the purpose, progress, and key focus areas of the Alpine CRC as of December 2020.
Community Priorities
The Alpine CRC released a Community Survey in 2020. The survey demonstrated that the community have identified a number of priorities that they believe are imperative to bushfire preparedness, response, recovery, and resilience. To address these priorities, the Alpine CRC have met with relevant agencies to explain what they are doing in the Alpine region.
Community and Connectivity
Improved internet and communications was the second highest priority identified by the community in the Alpine CRC Survey. The Alpine CRC met with representatives from organisations to understand what is being done to improve communications in the region, including Alpine Shire Council, Bushfire Recovery Victoria (BRV), NBNCo and Telstra. The key findings were:
There is no immediate resolution to what is a complex and multi-layered issue.
Alpine Shire Council is developing a strategic document to identify telecommunications issues, the gaps, and recommendations going forward. The information from this study will be used to prioritise next steps.
BRV are developing a plan to understand the scale of this issue from a 'human priority perspective'. A new role that includes this job scope commenced early in 2021.
NBNCo have Road Muster Trucks for use in an emergency. The Truck provides a satellite connection for communities in an emergency, but is to be used for connectivity only. Range is limited to 250m.
Telstra have applied for funds to connect the Bairnsdale to Wangaratta optic fibre network as there is currently a 42km gap in this route. Connection will increase the reliability and resilience of the fibre optic service, enabling communications to be rerouted from either direction and increasing the capacity to be able to connect other towns off the main route.
Isolated communities could have a satellite phone based in their community. If this is of interest to your community, please contact the Alpine CRC by emailing info@alpinecrc.org.au or approaching one of our representatives.
Environmental Protection and Management
The survey suggested that our communities regard environmental protection and management as the number one priority for future bushfire preparation. So much so, that this priority was ranked amongst the highest across all our communities. The Alpine CRC met with DELWP to find out how they have been addressing this priority. For more information on any of the following, visit their website.
replacing boundary fencing on both public and private land
repairing 490km of firebreaks on public land while managing plant species and erosion
repairing 440km of roads and numerous bridges
looking to divert hazardous trees to community depots for firewood
managing and repairing waterways by removing barriers for native fish to swim upstream
reseeding 6000ha of Alpine Ash using existing seed banks
assessing and rehabilitating the long-footed potoroo, spotted-tree frog, and Macquarie perch
focusing on high-threat weeds, including broom in the Buckland Valley and willow in Buffalo River
trying to secure funding for other weeds, including blackberries as it is acknowledged that they are an extreme issue
culling 3000 pests animals in eastern Victoria, including deer, goats, pigs, and foxes
undergoing work at Mt Buffalo, particularly around the chalet, and at the Tawonga Caravan Park
helping to establish stand-alone power systems so that communities can be more sufficient when in need of power
Access a larger version of DELWP's Bushfire Recovery Progress in Northeast Victoria - 18 Months On.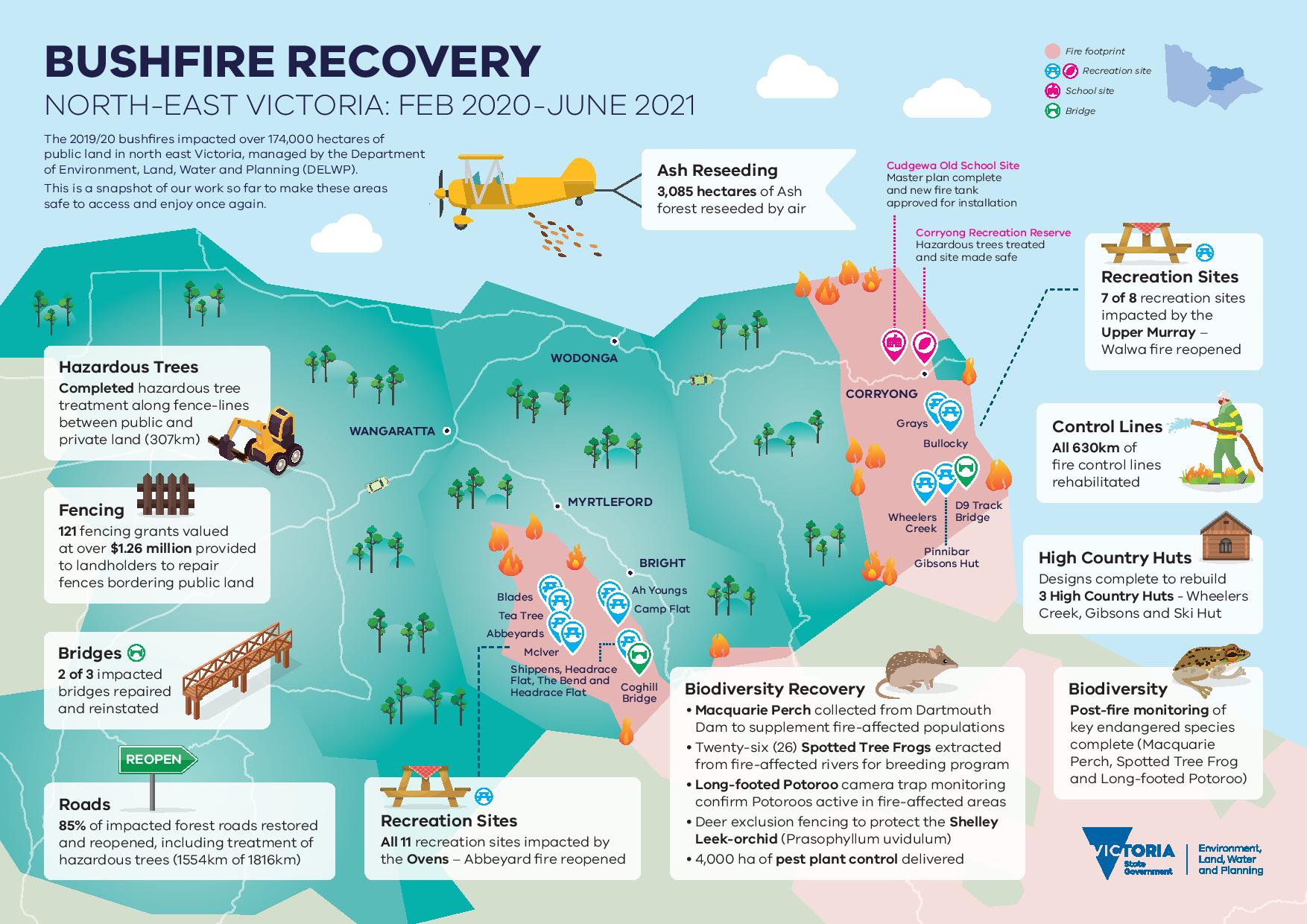 Mental Health with Bushfire Recovery Victoria (BRV)
The Alpine CRC met with Cecily Fletcher, the People and Wellbeing Coordinator for BRV to discuss what is being done about mental health in the Alpine region. The People and Wellbeing team collaborates with a number of key agencies and services at local, state, and national levels to work with communities. This means that the team have access to a number of experts who can support you when you need it most.
Find out more about BRV by visiting their website. 
Recovery with Gateway Health
The Alpine CRC met with Jarryd Williams, Bushfire Recovery Manager for Gateway Health, to discuss personalised assistance for bushfire-affected regions. Jarryd manages a team of 12 who operate in the Alpine, Indigo, Mansfield and Towong Shires, the rural cities of Wangaratta and Wodonga, and the Alpine Resorts.
The primary purpose of the Bushfire Recovery team is to coordinate recovery support for bushfire-affected families and individuals. Recovery Case Managers organise assistance across a variety of areas including mental health, legal aid, financial counselling, grant writing, and material supports including septic systems, private fencing, bedding, clothing, household items, and providing feed for animals. Gateway Health constantly advocate to Local, State and Federal authorities to access supports for individual members of affected communities and lobby for their needs. The Bushfire Recovery team is currently funded until December, 2021.
To find out more about how Gateway Health can support you, visit their website. Alternatively, get in touch with Intake Coordinator, Lara, by calling 0418 761 350 or by emailing bushfirerecovery@gatewayhealth.org.au.
Alpine Preparedness Newsletter
In 2021, the Alpine CRC worked with Alpine Shire Council and the Alpine Resort Management Boards to put together an emergency preparedness newsletter covering helpful resources, tips for preparing for an emergency, and key contacts.
Access the 2021 Alpine Preparedness Newsletter here.
In 2022, Alpine Shire Council distributed another emergency preparedness newsletter building on the information in the previous newsletter, covering important updates and key contacts during an emergency. 
Alpine Chat Newsletters
Grant Endorsement
Are you applying for a grant that requires you to demonstrate that your project is supported by the Alpine CRC? The Alpine CRC have put together a proforma to assist you with this step.
Submit your application for endorsement as soon as possible to enable the Alpine CRC to review your project.
Community members applying for the BRV LER grants will require this letter of support.
Expressions of Interest
The Alpine CRC is seeking expressions of interest (EOI) for a representative from Bright and surrounds and a representative from the Kiewa Valley to join the Alpine CRC.
Community members from a variety of backgrounds and experiences in Bright and surrounds and the Kiewa Valley are encouraged to apply.
More info is available in the Expressions of Interest Pack.
For more information, email the Bushfire Recovery Team at info@alpinecrc.org.au or call Alpine Shire Council on 5755 0555.
The Alpine CRC and Alpine Shire Council would like to thank Malcolm Hubbard, Bruce Hore, Barbara Talbot, Kellie Gray, Malcolm McPherson, and Charlotte Chambers for their time and input into establishing the foundations of the Alpine CRC, and wish them all the best with what comes in the future.
Media
See media releases relevant to the Alpine CRC.